COVID-19 (Coronavirus) Updates
COVID-19 (Coronavirus) Updates
The Golden Years' primary focus and concern is the safety and well-being of our precious residents and our valued staff.
As a healthcare facility serving seniors, we recognize the increased vulnerability of our residents in this situation and therefore are continually monitoring and following the guidance and direction given to us by the Centers for Disease Control and Prevention (CDC), the Centers for Medicare & Medicaid Services (CMS), the Wisconsin Department of Health Services (DHS), and the Walworth County Division of Public Health. In addition, we have been, and will continue to be in contact with our local hospital and physician partners to ensure we are properly coordinating care with them and doing all we can to serve and protect our residents during this evolving situation.
As the situation related to Coronavirus develops, we will add updates to this page by date, with the most recent appearing at the top.
Our buildings are currently CLOSED to visitors.
THERE ARE NO KNOWN CASES IN EITHER FACILITY AT THIS TIME.
June 2, 2020 - A Resident's Perspective
We asked one of our residents in the Retirement Village in Walworth to share their perspective of what living through this pandemic has been like for them at the Golden Years. Below is the posting they wrote:
During a pandemic, life for a resident like me, living in a communal living facility like Golden Years, is totally dependent upon whether the facility is "BC or AC". That is, whether it is Before or After the Covid-19 virus has invaded the facility.  So far, after 11 weeks, Golden Years has been blessed by remaining BC. The virus has not yet invaded our home.
But this did not happen just by chance. It happened because the owners and staff of Golden Years have dedicated themselves to keeping the virus out.  
Since March 12th we have been locked down. That is, except for an emergency or critical doctor appointment, no resident can go out, and no outsider can come in. When staff members come to work each day, they are checked for symptoms of the virus, they change into fresh medical scrubs, they put on clean shoes, and they put on masks.
As residents, we are not confined to our apartments. We are free to go anywhere on the campus, providing we observe the social-distancing rules and do not congregate in groups of more than 10.  Every resident has their temperature and oxygen level checked daily.
Our 4-course noon meal is no longer a buffet. It is now served to us at a table, mostly with only one person to a table and at least 6 feet apart. Our meal is served as it would be in any 4-star restaurant. (it would be a 5-star restaurant but the servers aren't wearing tuxedos.) We have soup, salad, and desert in addition to the main dish.
During the day there are many activities – usually four or five things to do. There are exercise classes, current event lectures, craft activities, group games, Bible studies, various contests, group walking, outdoor gardening activities, and more.  There is also a movie every afternoon, a couple of morning coffees during the week, and a Friday afternoon "Happy Hour". There are also many spontaneous small group get-togethers to just talk, play cards, or do things like knitting with friends.
In addition, there are teams of resident volunteers who spend time every day wiping down doorknobs, railings, elevator buttons, and other hard surfaces to keep them free of any possible virus.  
Since most of us prepare our own breakfasts and suppers, we often need to do a little food shopping. The staff does that for us. Once a week we can give them a list of whatever we need. They do the shopping and then bring the food back to us.
I have lived here almost 10 years and have always felt the care was wonderful. But with the pandemic raging around us, the care from the staff has become phenomenal. And, most importantly, it is done graciously. Never do we have a sense that any of the staff think it is just their job. It is always done as if it is their mission to take care of us.
I think I can safely say that all of us here at Golden Years are grateful to live here. Since we as older people are far more susceptible to the coronavirus, living here gives us a wonderful feeling of comfort, safety, and security.
– Lauren A.
May 28, 2020
One of the things that brings us joy is helping to facilitate events that enable our residents and their loved ones to spend some time together. One such event is our annual family day that we have traditionally held every summer at our Walworth location. While we had hoped that this pandemic would end soon and life could quickly return to normal, we recognize that bringing everyone together would not be in the best interests of the health and safety of our residents, their families, or our staff. As a result, we are saddened to announce that we have made the decision to cancel our family day event for 2020. We do look forward to someday hosting an event where we can bring everyone together again after it is determined that such a gathering would be appropriate. Thank you all for your understanding.
May 24, 2020
The total number of coronavirus cases in Walworth County continues to rise every day, and this week we became aware of two more local senior living facilities dealing with new resident cases of COVID-19. It was also surreal on Friday to see the Washington Post use a photo of downtown Lake Geneva to highlight their article about areas with uncontrolled coronavirus spread.
We have heard some in the senior living industry indicate recently that they believe it's a matter of "when", not "if" we will have cases of COVID-19 in our buildings. While we haven't yet resigned ourselves to that outcome, it is definitely a sobering prediction. So, we continue to prepare for the possibility that the virus might get into our buildings despite our best efforts.
In previous posts we have described some of our prevention procedures, and while those definitely continue, we have also renewed our focus on staff training. Many of our staff have completed or are in the process of completing their National COVID-Ready Caregiver Certification, and we have also been systematically reviewing and practicing with our staff how to properly handle and use personal protective equipment (PPE).
As we try to prepare, we also find reason for some optimism as we learn about skilled nursing facilities that are having some success in limiting the spread of the virus after it got into their building. Many of the initial nursing homes that experienced positive cases were devastated by the speed and the magnitude of the outbreak as the virus rapidly spread throughout nearly their entire building. As a result, even news of facilities having mild success in slowing the spread of this deadly virus is a welcomed contrast!
May 19, 2020 - Retirement Village Reopening Phase One
As we mentioned in our previous posting, we have been working on a plan for Phase One of reopening our Retirement Village. It is important to distinguish that this reopening is for our independent living Retirement Village apartments in Walworth only. All of our current restrictions will remain in place for our Assisted Living and Skilled Nursing areas. The direction given to our Retirement Village residents for this Phase One reopening is outlined below.
Effective Wednesday May 20th, Phase One of our Retirement Village re-opening will include:
Visitors:
One family visit per day
Visits to take place outside only
You and your family member must wear masks during your visit
Masks can be checked out from the office. Plan ahead, the office is closed on Sundays.
Beauty Salon:
Robin will be returning to Golden Years by appointment only. It will be important for both you and Robin to wear masks during your appointment. Masks can be checked out in the office.
As always, our greatest concern is for your health and safety, so for the time being, and until further notice, we will continue to:
take your temperatures and pulse/oxygen levels each day (except Sundays)
serve you at your socially distanced table in the Dining Room
disinfect your mail and packages
place, pick up and distribute your Sentry grocery orders
pick up your prescriptions at Walgreens
make deposits at your banks
help you arrange transportation to essential doctor appointments
provide activities and entertainment and outings (following the rules of social distancing)
offer help/instruction/guidance should you wish to video chat with your family
Each of these items will be revisited mid-June to determine if we are all clear to move to Phase 2.
We remain certain that it is only a result of God's grace, your courage, diligence and flexibility, and the hard work done by the Cleaning Brigade each day that Golden Years Retirement Village has, thus far, been spared the effects of Covid-19……and we are grateful.
Thank you for trusting us to continue to care for you. We will get through this!
May 15, 2020
A couple of big things have happened in the few days since our last posting! The President spoke about instituting COVID-19 testing for all nursing home residents and staff, and the Wisconsin Supreme Court struck down Governor Evers' "Safer at Home" order – effective immediately. Both of these items are significant and impact the Golden Years in various ways, so while we apologize this will be a longer posting than normal, we'll try to explain and respond to both topics as best we can with the information we have at the moment.
To begin, it's important to note that each section of the Golden Years – independent living, assisted living, and skilled nursing (Walworth and Lake Geneva) – is under different regulatory guidelines, and as a result, each area has been issued slightly different guidance during this pandemic. Much of the national conversation has centered on nursing homes, or the skilled nursing portion of our facilities, as that is the highest regulated area and is the area where our most vulnerable seniors typically are located.
Recently, the White House began highly suggesting preemptive testing for nursing homes, but indicated they would be leaving the details up to each state's governor to decide how the testing would be handled. Governor Evers, through the Wisconsin Department of Health Services, has now made nursing homes a priority for COVID-19 testing, but preemptive testing is currently voluntary, not required. (When we say "preemptive" we mean testing before any individuals in a facility become symptomatic)
We are going to try to continue to be on the leading edge of the response to this virus, but as we talk with our medical advisors, testing everyone preemptively to get a "snapshot" of the status in our buildings doesn't seem to be the most prudent approach. The results of a one-time mass testing can actually be misleading as staff/residents could test negative and pick up the virus the next day, or they could currently be in a pre-clinical stage of the virus, meaning they are already infectious, but it's too early for a diagnostic test to be able to detect the presence of the disease. If testing becomes more rapid and/or more readily available where testing would be done on a frequent and consistent basis, then preemptive mass testing may have more clinical value.
We will certainly abide by any updated regulations as they are released, but at this time we aren't planning on preemptively testing everyone in our buildings. We, of course, will continue to monitor symptoms closely and then will quickly isolate and test anyone that shows signs/symptoms of the virus. We also would prepare to test everyone in our building(s) if that became the appropriate response.
With regards to the Wisconsin Supreme Court ruling regarding Wisconsin's "Safer at Home" order, the impact on the Golden Years as a whole is somewhat minimal, though varied based on the different areas of the facility. In addition to Wisconsin regulations, the skilled nursing areas (and, to a lesser extent, the assisted living area) are under federal regulations as well. Those federal regulations were not impacted by the Wisconsin "safer at home" order and remain in full effect even with the Wisconsin order struck down. As a result, our policies regarding visitors, resident and staff symptom screenings, social distancing, and infection control monitoring remain completely unchanged in our assisted living and skilled nursing areas.
The area that may see some changes is our independent living Retirement Village in Walworth. However, unlike a standalone senior apartment building, there are additional complexities to consider during this transitional time due to the connection our independent living has to our assisted living and skilled nursing areas. As a result, we are currently working on a plan for rolling out any changes and will provide updates when they are available in the coming days.
We feel so blessed that we have not had any positive cases in our buildings yet, and we are remaining diligent to try to keep it that way. However, we also respect the threat that this elusive virus presents, and we are doing all we can to prepare in case it does get past our prevention efforts. Thank you all for your continued cooperation, prayers, and support.
May 11, 2020
We feel very fortunate that to this point we still have no known positive cases of COVID-19 in our buildings. As the national discussion around testing in facilities like ours seems to be ramping up, we feel it's important to share that to this point we have not done mass COVID-19 testing of all of our residents and staff. We continue to follow the guidance of the CDC, Wisconsin DHS, and our local physicians, and as we continue our frequent screening of residents and staff, mass testing has not been clinically indicated.
However, while we have not instituted mass testing, a number of our residents and staff have been tested individually for COVID-19 over the past several weeks in accordance with current protocols for healthcare facilities. Each time, the testing has been done out of an abundance of caution due to minor or singular symptoms, or due to their proximity to possible cases (like some of our recent admissions from the hospital as discussed in an earlier post). In every case we have taken the proper precautions, and worked closely with the primary physician, and in every case the test has come back negative.
We intend to continue to be as cautious and proactive as we can, and we will continue to follow the most recent professional guidance both in regards to our infection prevention and our testing protocols.
May 6, 2020
Nationally, hospital healthcare workers are rightly being portrayed as heroes. We are so grateful for them and many of them locally are close friends or family. They deserve the praise they are receiving and we commend them for their service! They are on the front lines of this pandemic. However, we have seen that this pandemic has multiple front lines. It's with that awareness that we've been doing everything we can to prepare ourselves for and protect ourselves from his virus. We have invested countless hours and thousands upon thousands of dollars attempting to get personal protective equipment (PPE) in an effort protect our residents and our staff, and, by extension, our staff's families. We have been supported in this by many friends who have made fabric masks or donated PPE, but in light of global shortages our efforts in this respect are ongoing.
We've personally been blessed to be encouraged and supported by so many of our residents and their families, but we recognize that nationally healthcare workers in nursing homes or assisted livings are not getting the same treatment as our friends serving in the hospitals. While acknowledging our bias, we couldn't be prouder of our Golden Years staff or more thankful for their incredible dedication during this time. As many around us appropriately follow the orders to stay at home during this pandemic, our staff has continued to bravely show up to work every single day – at personal risk to themselves and their families – to provide care in close contact with our vulnerable seniors in the face of this contagious, invisible, deadly virus.
So, while hospital workers throughout the country absolutely are heroes, there is definitely no doubt in our mind the efforts of our amazing staff have been nothing short of heroic as well.
May 2, 2020
With Mother's Day is rapidly approaching we recognize that celebrations this year will be unlike any other year. The inability to have visits from loved ones continues to be the hardest part during this time for our residents, and we know that this holiday could be particularly tough as it is typically a day where our buildings are filled with guests. While visitors are not yet allowed in our facilities, we want to confirm that flowers and packages can still be delivered, and we definitely encourage sending cards, calling on the phone, or visiting through a closed window. These communication options are available every day, but they're especially available on Mother's Day!
April 28, 2020
As additional information continues to be released from across the country in areas hit hard by the coronavirus, we've been paying particularly close attention to reports from other nursing and senior living facilities to attempt to learn from the experiences they've had to go through. It has helped inform many of our decisions – some of which we have already shared with you – and one decision in particular that we haven't talked about, but wanted to take a moment to share with you today.
One of the common trends that seems to be repeating is the apparent spread of the virus to numerous facilities in the same general geographic areas. There can be a variety of reasons for this, but one of the major contributors appears to be staff that work in multiple facilities. Perhaps like other industries, the senior health care market is filled with workers that consistently travel between senior living facilities. For some employees it's the result of having a second job that takes them to multiple buildings, and for some, as contracted employees, their jobs require them to work in numerous locations. In normal times, these shared staff are essential in order to provide the necessary care to our residents, but in these current times, these shared staff suddenly become a major liability for increasing the risk of virus transmission.
Typically, we have many staff (our own, and contracted individuals) that work in both our Walworth and Lake Geneva buildings, and/or work in other facilities in the area. However, since mid-March we purposefully and drastically worked to limit this practice as much and as quickly as we could. Internally, we completely stopped sharing caregiving staff and put strict restrictions on all other transit between our two locations. It's been difficult, but our partners that provide services like therapy and hospice have worked closely with us to prevent shared staffing between our two facilities – and any other locations as well. Partners like pharmacy and medical equipment suppliers have strategically worked with us to limit or completely eliminate any contact during deliveries. Our amazing Medical Director, Dr. Hobbs, has been one of the physician leaders during this crisis at the local hospital, Aurora Lakeland Medical Center. As a result, he has not been coming to either of our buildings, but has remained very accessible to us remotely and has been invaluable in providing his support and advice. Finally, while we continually attempt to limit their contact, there are support services that still need to have physical access to our buildings and our residents like diagnostic laboratory, mobile radiology, and emergency medical personnel. If and when their services are required, they have each been very cooperative with our screening and infection control procedures that we have put in place in an attempt to minimize the risk to our staff and residents by limiting their exposure.
Even though these measures are not new and have been in place for about 6 weeks now, we feel they are a really important component of our response to this pandemic and therefore wanted to be sure to share these details. If you have specific questions or concerns, please feel free to reach out to us directly. The contact information for both buildings and our online contact form can be found by clicking on the "Contact Us" link at the top of this page or by clicking here.
April 24, 2020
Walworth County's coronavirus infection numbers continue to rise, and yesterday the county officially reported its 100th confirmed positive case of COVID-19. There are at least 2 local nursing facilities dealing with outbreaks in their buildings, and already a week ago Walworth County's public health department was considering the virus "widespread" throughout the county.
While we have stopped allowing visitors and have strict restrictions on anyone coming into our buildings, we are currently continuing to admit new residents into our facilities at this time. However, even in our admission process we are doing all we can to minimize the risk of introducing the virus into our buildings.
We are currently not admitting known COVID-positive patients into our facilities. We always closely review any referrals to make sure we believe that we have the ability and resources available to serve them well, but during this time we have been even more diligent in our review process. Our local hospitals have been very good to work with in this regard as they recognize the increased risk this virus clearly presents in our environment. As a result, most of the individuals we receive referrals for have already been tested for the COVID-19 virus, and the hospitals have typically been very accommodating with those that had not yet been tested. We have implemented social distancing protocols for all of our residents, but have put in place additional measures to monitor and, for a time, quarantine our newest residents as an extra layer of protection.
More than anything, we hope these intentional steps are effective at keeping the virus out of our buildings! In addition though, we hope these provisions allow us to continue to serve seniors in need in our communities during this time while still providing a high level of reassurance for our current residents and our staff.
April 21, 2020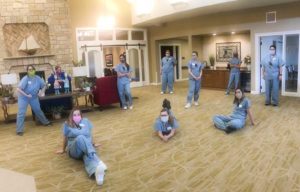 We have received some feedback expressing concerns about this photo that we recently shared on our social media pages, and the possible infection control risk created by our 3 staff pictured sitting on the floor. So, we wanted to share some additional context to hopefully alleviate some of those concerns and express that we are taking our response to this pandemic very seriously.
The photo was taken about 2 weeks ago, shortly after we implemented a new scrubs and masks procedure in our buildings. It was taken right after "shift change" so that it could capture many of our day shift and pm shift staff, and the 3 ladies pictured sitting on the floor had already completed their shift and took part in the photo just before leaving for the day.
In answer to a specific question that was asked: the picture was not intended to be controversial, and it does feature our actual staff, not paid actors – although our gals did love hearing that someone thought they were models! We simply wanted to show off a few of our many amazing staff that have been working so hard during this time.
Hopefully anyone who visits one of our buildings can tell that we always put a lot of effort into the cleanliness of our facilities, and since early March we have intentionally increased those efforts with an extra focus on sanitation. However, even with that in place you won't typically find any of us laying down on the floor…and if you do, it probably means we dropped something or we tripped!
The scrubs and masks procedure we mentioned was put into place at the start of April and, much like the process at a hospital, our staff change out of their personal clothes and put on a pair of Golden Years provided scrubs and a fabric face mask when they enter the building. As staff leave the building, they change back into their personal clothes, leaving their used scrubs and mask for the Golden Years to launder. Additionally, our staff either change their shoes upon arriving to work or spray them with disinfectant to avoid inadvertently tracking something into the building.
The health and safety of our residents and our staff continues to be our top priority – especially during this time. While we sadly realize we cannot 100% guarantee that we'll be able to keep the virus out of our buildings, we are definitely trying to prevent it through actions like extra sanitations, intentional hand hygiene, social distancing, temperature taking, symptom screening, staff training, and our scrubs and masks procedures.
Many of these actions have already been outlined in previous postings on this site, but we wanted to recap them and directly address the photo in light of the concerns expressed.
April 16, 2020
As many of you may have seen, the official number of COVID-19 cases in Walworth County rose significantly today, and there was a news article released indicating that it was due in large part to an outbreak in at least one local facility. So far, Walworth County has chosen not to release any details regarding the name of the facility or its location.
We know there are many concerned individuals wondering if this outbreak might be in one of our buildings, and it is with great humility and gratefulness that we can confirm that at this time there are still no known cases of coronavirus in either of our locations.
We are acutely aware that our status today is no guarantee for our future. As a result, we can assure you that we are remaining vigilant and intentionally doing our best to keep this virus out of our buildings, while simultaneously attempting to do what we can to prepare in case it does. While we have heard rumors of local outbreaks through the healthcare grapevine, we do not have any firsthand information and therefore we have no additional details to share. Our hearts definitely go out to the impacted residents, their families, and the staff that are caring for them.
In additional news, today Governor Evers officially extended his "Safer at Home" order until May 26th. Naturally this means we are planning for all of our visitor restrictions and infection control precautions to continue for at least another 6 weeks.
We will do our best to continue to keep everyone informed, and we cannot thank you enough for your continued support!
April 14, 2020
Yesterday afternoon new guidance was issued by the Wisconsin Board on Aging and Long-Term Care that banned all window visits at any nursing home or assisted living community throughout the state. This guidance was issued in an attempt to respond to numerous accounts that they had received of individuals visiting long-term care residents outside of their windows, yet having contact such as kissing through a screen, hugging through an open window, and not maintaining social distancing. Today, the Board on Aging and Long-Term Care rescinded their complete ban on window visits, and in their revised guidance specifically described activities such as waving to a resident through a closed window as "essential."
In an effort to follow the spirit of their guidance while preventing the contact they described, "window visits" outside of Golden Years' rooms will now need to be made through a closed window. We still encourage family and loved ones to visit outside of the window, and we are happy to help facilitate phone conversations during the closed window visit – or anytime – in addition to assisting with video chats through Skype, FaceTime, or Zoom.
Thank you for your continued support and understanding!
April 10, 2020
As our quarantine completes its 4th week (or has it been 4 months?!) we all continue to adjust to this new "normal."
We find our residents currently expressing a pretty broad range of perspectives. Some are quite concerned about their personal vulnerability – due in large part to their underlying health conditions. Others have expressed that they think the Golden Years is the safest place on the entire planet and therefore they have no concerns whatsoever. However, most of our residents – and the truth – can probably be found somewhere in between those two extremes with an acute awareness of the invisible danger out there, but a comfort in the precautions we are all continually taking.
We continue to track and follow guidance from the CDC, CMS, and Wisconsin DHS, and our decision to go a step further and implement wearing scrubs and facemasks has been strongly affirmed by our medical director and professional advisors. While we recognize that many nationally and now some locally have not been as fortunate, we are beyond grateful that we have not yet had any cases in either of our buildings, and we continue to work hard and pray hard to keep it that way!
April 6, 2020
To be perfectly honest, as we hear of increasing cases locally of COVID-19 we are all a little on edge and hyper-focused on doing all we can to protect our residents and each other during this time. So it's such a welcomed contrast to look out the window and see the sun, and hear the birds, and see the greening signs of Spring. We know that this challenge is really just beginning, but we head into the unknown of this week – and the coming weeks – so grateful for our amazing, brave, and faithful staff. And we know, as the old Persian adage goes, this too shall pass.
In the words of Gio Marra, our maintenance guy Tony's brother, during the recent video concert he shared with our residents:
Have a little faith
Have a lot of hope
Always wash your hands
And use a lot of soap!
April 2, 2020
As readers of our past updates are well aware, we have already implemented many things to try to keep the COVID-19 virus out of our buildings, and we are constantly evaluating additional ways to protect our residents and our staff. With that in mind, we wanted to inform you of some additional precautions that we are putting in place.
To be clear, these changes are preventative. There are currently no known cases of coronavirus in either of our buildings and our focus and full commitment is to keep it that way!
Beginning this week, all of our staff will begin wearing scrubs and fabric face masks in addition to the hand hygiene, temperature taking, and symptom screening we have previously had in place. Much like the process at a hospital, upon arriving at work our staff will change out of their personal clothes and put on a pair of Golden Years provided scrubs and a fabric face mask. As staff leave the building, they will change back into their personal clothes, leaving their used scrubs and mask for the Golden Years to launder.
By providing scrubs that stay at the Golden Years, our hope is that our staff won't accidentally bring anything into the building on their clothing, and will have additional confidence that they won't inadvertently take anything home to their families on their clothing either. In addition, with everyone beginning to wear masks now – before there is an outbreak – we are hoping to help prevent the broad unintentional spread of the virus by asymptomatic or pre-symptomatic individuals.
This change is not something that has been required of us by any governmental or regulatory entity. We decided to take this step and make this financial investment in an effort to do all we can to protect our residents, our staff, and our staff's families during this time. This new process is costly, and it definitely requires additional time and effort from each of our staff. It also doesn't come with any guarantees that it will be successful, but even the fact that it might help prevent or contain this virus makes it completely worth it to all of us.
March 28, 2020
With help from some wonderful (and patient) test subjects over the past week, we were able to enhance our technological ability to facilitate FaceTime or Skype conversations with residents in both of our buildings. We have reached out to family members that have shared their email addresses with more specific details on how to best coordinate video chats with us. If you're interested in setting up a video chat and did not receive an email from us, please contact us directly. The contact information for both buildings and our online contact form can be found by clicking on the "Contact Us" link at the top of this page or by clicking here. 
We also want to certainly encourage everyone to keep reaching out to their loved ones with phone calls or by sending cards and letters. Our residents all seem to be doing well, but we have observed many times already that a message from a loved one definitely helps to lift their spirits and is a cherished bright spot during this time. 
As an additional way of staying connected – while we are admittedly very behind at the moment – we will attempt to keep posting photos from both of our locations on our social media pages (
Facebook
,
Twitter
,
Instagram
). Please feel free to follow us on any of those sites for little glimpses of life at the Golden Years.
March 24, 2020 - Fabric Mask Guidance
As the world struggles with global shortages of personal protective equipment (PPE), we have been contacted this week by several generous and caring people offering to help sew face masks for us. Thank you!
Your time and talent can greatly impact our ability to care for our seniors and help ensure our safety as we do. Fabric masks offer the benefit of being able to be washed and re-used. Still a large supply is needed, as each healthcare worker may need to change their mask several times during their shifts, as the mask becomes soiled or damp – for maximum protection.
We aren't worried about looking stylish – but we are concerned about functionality. Non-matching fabrics, thread, binding strips are just fine – but a well sewn mask with no frayed edges or missed seams or "holes" is important. 
In an effort to make sure the masks are as safe and effective as possible, we ask that you consider the following information and guidelines that we've adopted from a large Midwest hospital group: 
It is most helpful to use a standard pattern to ensure proper fit and function. As a result, please use the following patterns:
Recommended fabric for the outer portion of the mask includes heaver, non-stretch fabric such as denim, duck cloth, canvas, twill, or other tight woven fabric.
Recommended fabric for the inner lining and filter pocket can be other cotton, cotton-blend non-stretch fabric. It can be thinner and softer, but again recommended minimal or non-stretch. Fabric MUST be laundered in HOT water prior to sewing to prevent future shrinkage.
Polyester or other less breathable fabric will not work as well, due to moisture produced when breathing.
If using denim or other fabric that is being "recycled", please be sure it is clean and in good shape. Worn or dirty fabric will not be protective.
Elastic should be in good shape, with plenty of stretch and of an appropriate size to fit over the ears. 1/16 inch round cord or 1/8 inch braided work best.
If elastic is not available, fabric ties can be sewn on the mask. There will need to be 4 ties (one tie on each of the 4 corners). Ties should be approx. ¼ inch in width, sewn in such a way that there are no frayed edges, and long enough to be tied into a bow on the top of the head (for the top corner and behind the head for the bottom corner).
Completed Masks
Enclose completed masks in a closed plastic bag or closed plastic box. Deliver your masks to either of our locations Monday-Friday between 9am and 5pm:
Walworth, 270 Ridge, Road, Walworth, WI
Lake Geneva, 611 Harmony Drive, Lake Geneva, WI
If you have questions, or need more information, please email us at info@goldenyearswi.com.
March 21, 2020
As our buildings' closure to visitors stretches into its second week, all of our residents and staff certainly miss the many family members, friends, and volunteers that would frequently travel our halls. We recognize that it's hard to know how to best stay connected during this time so wanted to pass along a resource that was shared with us by our friends at Aurora Hospice. We also plan to share more information about the attached Tip #2 in the coming days.
Click to open link: A Guide to Supporting Your Loved One During the Coronavirus Quarantine
March 19, 2020
As many of you may have already heard, there are now two confirmed cases of COVID-19 in Walworth County reported by the Walworth County Public Health Department. According to the official information they shared, the first case was an individual who had traveled domestically recently and had remained in voluntary self-isolation since returning from travel. The second case is a man in his 60s who is currently receiving treatment. They have not released if the second case was travel related or not. No other information has been shared about either patient's identity, location or condition. As far as we know, neither individual has any connection to the Golden Years, but it's still sobering to know that this virus has officially arrived in our county.
We've continued to revise our systems over the past few days in an effort to best protect our residents and remain in compliance with the directives issued by our local and national health authorities. One recent change was a modification to our dining service in our independent Retirement Village. We wanted to better enforce infection control practices and better incorporate social distancing, but we were concerned about the social impact of this move on our seniors – most of whom greatly enjoy their daily buffet dinner together. However, after their meal today several residents were overheard commenting that they could really get used to this new plated-service private dining! Leave it to our great dietary staff to even make a quarantine enjoyable!
March 17, 2020
After the many precautions we implemented last week, followed by the flurry of suggestions, guidelines, and requirements issued by our nation's health authorities, both our residents and our staff are attempting to get used to life in this new "normal".
We continue to focus on prevention through extra sanitation, screening, and infection control practices, particularly hand hygiene, and this will continue for the foreseeable future.
We have been asked frequently how long we think this might last. Unfortunately, we really don't know. We believe a significant component will be how compliant people are with these nationwide guidelines, and how effective all of these restrictions are at slowing the pace of this virus' spread across the country. Much of the recent guidance we have received has indicated that the directives will be reviewed again after 30 days so we certainly expect – and are preparing for – the length of this situation to be measured in weeks or months, not days.
We'll continue to provide updates on this page, but if you have specific questions or concerns, please feel free to reach out to us directly. The contact information for both buildings and our online contact form can be found by clicking on the "Contact Us" link at the top of this page or by clicking here.
March 15, 2020
We are so grateful for the overwhelmingly positive feedback and encouragement that we've received since making the difficult decision to close our buildings to visitors on Friday. Thank you to the many of you who have reached out.
As hard as the decision was for us to make, we feel affirmed in our choice as Friday evening the Centers for Medicare & Medicaid Services (CMS) issued updated guidance that, among other things, directed all nursing homes nationwide to close to visitors. While that was the most notable part of their updated guidance, as was previously mentioned, there were other components as well. Beginning Friday evening and throughout the day on Saturday, our staff in both of our locations worked to implement those additional directives.
We have now put into place more robust health screening for anyone entering our buildings that includes reviewing and signing off on a series of health and infection related questions, taking and logging their temperature, and in the circumstances outlined in CMS' directive, preventatively wearing personal protective equipment (PPE) such as facemasks.
Also, at CMS' direction, we have suspended communal dining and group activities. Meals are now being served on trays in resident rooms, and all activities are being careful to integrate "social distancing", which the CDC defines as remaining out of group settings and maintaining distance (approximately 6 feet) from others.
It has been quite the challenge to keep up with and appropriately implement all of the rapidly changing directives and guidance, but it's been possible thanks to all of your support, the incredible cooperation of our residents, and the positive attitudes and willing efforts of our simply amazing staff.
March 13, 2020 - Retirement Village
Golden Years Independent Living Update
The Golden Years' primary focus and concern is the safety and well-being of our precious residents and our valued staff. With this in mind, as of today, March 13, 2020, the leadership of Golden Years has issued a temporary preventative lockdown.
This means:
all non-emergency guests including family members and volunteers are asked to postpone their visits
bus travel for outings, shopping, and church have been cancelled
all non-essential appointments such wellness checks, social gatherings outside of the RV, community volunteer activities and shopping excursions should be rescheduled
In the meantime:
Mail service, package delivery and prescription deliveries from McCullough's and Aurora will continue as usual
Trish, Chris and Debbie are finalizing systems to ensure you will continue to receive the groceries and essentials you need as well as providing ways to communicate with your family if needed
Linda Austin has offered to host a modified standard precautions/infection control class for all the residents of the Retirement Village
Please know we do not make these decisions lightly and that our concern, as always, is the safety, health and independence of our residents.
We thank you in advance for your patience, understanding, and cooperation.
March 13, 2020
After much thought, prayer, and discussion, we have made the unprecedented decision to close our buildings to visitors. This is a sobering decision for us, and it was not made lightly, but is consistent with our mission. For over 50 years our singular focus has been to provide the best possible care to our seniors. In light of this current outbreak and the devastating impact this virus has proven to have on the elderly, we have decided this is the best way to protect and truly serve our seniors best. 
We are certainly aware of and are concerned about the social impact this decision will have emotionally on our residents, and are working toward solutions to address this concern. We would definitely encourage friends and family to remain engaged with their loved ones during this time through phone calls, emails, and/or video chats.
We will continue to provide updates as we are able and as we have additional information to share. Thank you for your prayers, your support, and your understanding as we navigate through these unchartered times
March 12, 2020
We continue to closely monitor the health and symptoms of our resident and staff and are working through the process of providing updated training to all of our staff on the uniquenesses of COVID-19 and the best ways to prevent infection and respond if treatment becomes necessary. We are continuing to limit guests to essential visits only, and all visitors must sign in at the main entrance so we are able to monitor and track if necessary. We are continuing with ramped up cleaning and sterilization, particularly in shared areas and on common touch points.
As this virus continues to spread throughout the nation, we remain in contact with Walworth County's public health department and continue to follow the guidance offered by the CDC and Wisconsin DHS. We anticipate that we may need to implement further restrictions in the near future. We will keep updating this page as we have more information to offer.
March 11, 2020
At the time of this writing, there remains no known cases of COVID-19 (Coronavirus) at the Golden Years, or in Walworth County. However, out of an abundance of caution, we are currently requesting that guests consider visiting another time. If a visit is necessary, all visitors must sign in, contingent on passing a self-screening process. Anyone that has signs or symptoms of a respiratory infection, has had contact with a known case of COVID-19, or has been in an area identified with the COVID-19 virus is not allowed in the facility.
In addition, we ask that any necessary visitors use proper hand hygiene by washing their hands with soap and water or using an alcohol-based hand sanitizer, always cover coughs and sneezes with a tissue or use their elbow if a tissue is not available, limit the surfaces they touch, and limit movement within the facility to the resident's room. We also ask that any visitor notify the Golden Years of any signs or symptoms of COVID-19 or acute illness within 14 days after visiting.
We appreciate everyone's understanding and cooperation as we navigate through this time.
March 6, 2020
At the time of this writing, there are currently no known cases of COVID-19 (Coronavirus) at the Golden Years, or in Walworth County.
As this virus has expanded and spread throughout the world, we are taking the coronavirus threat very seriously and have created this space on our website to provide updates to anyone concerned or interested in our status. We are increasing our infection control cleaning diligence and our coordination with our local public health authorities. We have been reviewing our emergency plans and responses, and have been internally meeting over the past couple of weeks preparing our response for this situation should it continue to proliferate.
We intend to provide updates as we are able, and as we have additional information to share.